Maine Lottery, ME Lotto Winning Numbers, Picks, Odds, Frequency
Today's draw dates are in red italic.
Last Updated at Tue Sep 19 18:32:02 2017

Select a state for latest results

Select a state to view the last drawing results. You can enter up to 10 sets of ticket numbers to find out if you have won.



Latest U.K. & Irish Lottery Results


Latest U.S. & Canada Lottery Results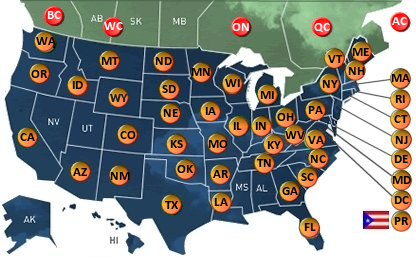 Maine (ME) Lottery General Information
The idea of starting a Maine lottery operation was first championed by Rep. Arthur Genest of Waterville. In 1973, Genest sponsored a bill to introduce a lottery in Maine. When the public was asked to vote in 1973, the answer was a resounding "yes," and the Lottery began operations in 1974.

Then-governor Kenneth M. Curtis drew the first lottery numbers on June 27, 1974. The numbers were printed on large rubber balls and drawn from a gumball machine. A Lewiston mechanic, Ivan Lazure was the first winner, with a $20 jackpot.

The Maine State Lottery is proud of its commitment to providing the citizens of Maine with fun and exciting entertainment. Over the past 25 years, the Maine State Lottery has transferred more than $500 million to the state's General Fund.


LottoStrategies.com - About (ME) Maine Lottery
Maine (ME) state(lotto) lottery official websites: Mainelottery.com, MElottery.com, Mainelotto.com, MElotto.com, Mainelottery.org, MElottery.org, Mainelotto.org, MElotto.org. We also provide these information about Maine lottery: contact, address, phone number. Please refer to Resource Center.
Maine (ME) lottery currently offers these lottery games:

Powerball is drawn 2 times a week Wednesday and Saturday 10:59 PM

MEGA Millions is drawn twice a week Tuesday and Friday 10:59 PM

Megabucks Plus is drawn two times a week Wednesday and Saturday 7:59 PM

Hot Lotto is drawn 2 times a week Wednesday and Saturday 10:40 PM

Lucky For Life is drawn 2 times a week Monday and Thursday 10:38 PM

Gimme 5 is drawn 3 times a week 6:59 PM

Pick 4 Day is drawn daily Sunday, Monday, Tuesday,Wednesday, Thursday, Friday and Saturday 1:00 PM

Pick 3 Day is drawn daily 1:00 PM

Pick 4 Evening is drawn everyday 6:50 PM

Pick 3 Evening is drawn daily Sunday thru Saturday 6:50 PM

WPT is drawn 0: AM


We also provide these information for the games above: winnning numbers, hot/cold/overdue numbers, jackpot, how to play, how to win, most winning numbers, prizes, winning odds, payout, frequency chart, lotto wheels, etc.