Premium Members


Sponsored Links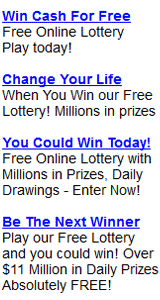 Lotto Pool FAQs

How to start a lotto pool?

Before you start a lotto pool, you need to determine the answers to several important questions:
What lotto game should you play? Some lotto pools play every draw the state or multi-state lotteries offer. Others only play when the jackpot reaches certain amounts. Many lotto pools play out-of-state games, particularly when most members live in a non-lottery state.

How much should each member contribute? How much can you afford to spend each week or month? To make a pool worthwhile, each member should plan on putting at least $10 monthly into the fund.

What's the size of the lotto pool? This is an important question. If your pool is too small, you're just as well off playing alone. If it is too big, it's hard to manage and your potential winnings are sharply reduced. The best size for a lotto pool is between 5 and 15 members.

What is your criteria for selecting members? You should form lottery pools with people you know - family, friends, fellow employees - and not just acquaintances. Not only does it make pooling more fun, but there are critical issues of trust involved whenever you are playing for money.

How do you pick your numbers? Some lotto pools use Quick Pick to select numbers. It is strongly recommended, though, that Lotto Pools use a Wheeling System to pick numbers, taking advantage of a pool's ability to play more combinations than individual players.
After determining the basic elements of your lotto pool, you will be able to approach potential members to join. When your circle of fellow pool players is complete, you can make necessary adjustments, such as the monthly contribution each person will make to the pool.

A written agreement is necessary to avoid future disputes or even lawsuits. A typical lotto pool agreement should contain the following elements:
Purpose of the lotto pool.
Member selection criteria.
Amount of contributions.
How often to play or how big when the jackpot reaches to play?
How the winnings are distributed?
Cancellation of membership.

Basic rules of operating a lotto pool
All pool members equally share playing costs.
All pool members equally share all prizes or the prizes go into pool fund.
Pick numbers: members pick their own numbers or only one member picks all numbers.
Buy lotto tickets: which member is repsponsible to buy tickets.
Inform all members which numbers are going to be played before the drawings.
Keep the pool at a most appropriate size so it is easy to manage.
Those who don't share in the costs don't share in the prizes.
Elect some responsible and willing persons from the members to collect pool fund from all the members beforehand.
Act earlier: don't wait until the last minute to buy the tickets.
Use email or setup a BBS as the tool for pool information exchange.

Back to Introduction to Lotto Pool

Free Powerball Pool
LotteryTicketPool.com
Play Powerball Free!