Premium Members


Sponsored Links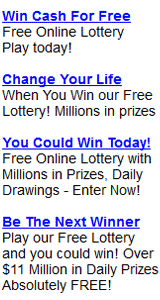 MegaMillions


X-Powered-By: PHP/5.3.23 Content-type: text/html
Latest MegaMillions Results
Draw Date: Fri, May 17, 2013
11-15-35-43-49 MB: 41
Next Draw: Tue, May 21, 2013
Jackpot: $12,000,000 (Cash Value: $8,800,000)


MegaMillions is a multi-state jackpot game participated by 42 states, Washington D.C. and the US Virgin Islands with a jackpot starting at $12 million and growing until someone wins. Select a MegaMillions state below to view the latest state Lottery Results, Past Winning Numbers, Frequency Chart, Smart Picks, Jackpot Analysis for MegaMillions of your state, etc.













Free Powerball Pool
LotteryTicketPool.com
Play Powerball Free!