Premium Members


Sponsored Links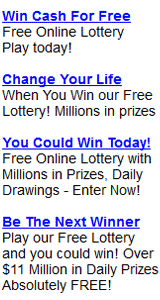 Kansas Lottery, KS Lotto Information, Contact, Drawing Schedule, Website

Kansas Lottery
Kansas (KS) Lottery General Information

In November of 1986, 64 percent of Kansas voters approved a constitutional amendment authorizing the creation of a state lottery. The Kansas Legislature passed the "Kansas Lottery Act" in 1987, and the Kansas Lottery was established. The mission of the Kansas Lottery is to produce the maximum amount of revenue possible for the State of Kansas while insuring the integrity of all games.

The Kansas Lottery sells $1, $2, $5 and $10 scratch tickets and $1 and $2 instant pull tab games. It also offers eScratch, a type of instant ticket in which winnings are revealed while playing interactive Internet games. In addition, Kansas Lottery players enjoy Powerball, Super Kansas Cash, Pick 3, 2by2 and Keno lotto games. Kansas Lottery products are sold at approximately 1,900 retail locations.

Nov. 11, 1986 - 64 percent of voters say "yes" to the establishment of a state lottery in Kansas.

Nov. 12, 1987 - Ticket sales begin statewide with kick-off events held in 21 cities. Sales of the first instant game, Up and Away, were $7 million the first week.




Kansas Lottery Commission Web Site
http://www.kslottery.com


Kansas Lottery Drawing Schedule

| | | | | | | | |
| --- | --- | --- | --- | --- | --- | --- | --- |
| Games | SUN | MON | TUE | WED | THU | FRI | SAT |
| Powerball | | | | | | | |
| MEGA Millions | | | | | | | |
| Megaplier | | | | | | | |
| Hot Lotto | | | | | | | |
| Super Cash | | | | | | | |
| 2 By 2 | | | | | | | |
| Pick 3 | | | | | | | |




Kansas Lottery Winning Numbers

Search Past KS Lottery Numbers
Recent Kansas Powerball Numbers
Recent Kansas MEGA Millions Numbers
Recent Kansas Megaplier Numbers
Recent Kansas Hot Lotto Numbers
Recent Kansas Super Cash Numbers
Recent Kansas 2 By 2 Numbers
Recent Kansas Pick 3 Numbers






Kansas Lottery Contact Information

Kansas Lottery Headquarters
128 N. Kansas Ave.
Topeka, KS 66603
785-296-5700

Topeka Regional Office
128 N. Kansas Ave.
Topeka, KS 66603
785-296-5774

Wichita Regional Office
130 S. Market - Suite 1028
Wichita, KS 67202
316-337-6110

Great Bend Regional Office
3007 West 10th St.
Great Bend, KS 67530
316-792-5363

LottoStrategies.com - About (KS) Kansas Lottery
Kansas (KS) state(lotto) lottery official websites: Kansaslottery.com, KSlottery.com, Kansaslotto.com, KSlotto.com, Kansaslottery.org, KSlottery.org, Kansaslotto.org, KSlotto.org. We also provide these information about Kansas lottery: contact, address, phone number. Please refer to Resource Center.
Kansas (KS) lottery currently offers these lottery games:

Kansas (KS) Powerball
Kansas (KS) Hot Lotto
Kansas (KS) Super Cash
Kansas (KS) 2 By 2
Kansas (KS) Pick 3

We also provide these information for the games above: winnning numbers, hot/cold/overdue numbers, jackpot, how to play, how to win, most winning numbers, prizes, winning odds, payout, frequency chart, lotto wheels, etc.
Last Updated at Wed Apr 23 18:42:59 2014
Free Powerball Pool
LotteryTicketPool.com
Play Powerball Free!