Premium Members


Sponsored Links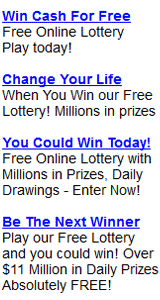 Minnesota Lottery, MN Lotto Information, Contact, Drawing Schedule, Website

Minnesota Lottery
LottoStrategies.com - About (MN) Minnesota Lottery
Minnesota (MN) state(lotto) lottery official websites: Minnesotalottery.com, MNlottery.com, Minnesotalotto.com, MNlotto.com, Minnesotalottery.org, MNlottery.org, Minnesotalotto.org, MNlotto.org. We also provide these information about Minnesota lottery: contact, address, phone number. Please refer to Resource Center.
Minnesota (MN) lottery currently offers these lottery games:

Minnesota (MN) Powerball
Minnesota (MN) Hot Lotto
Minnesota (MN) Gopher 5
Minnesota (MN) Northstar Cash
Minnesota (MN) Daily 3

We also provide these information for the games above: winnning numbers, hot/cold/overdue numbers, jackpot, how to play, how to win, most winning numbers, prizes, winning odds, payout, frequency chart, lotto wheels, etc.
Last Updated at Thu Apr 24 07:12:12 2014
Free Powerball Pool
LotteryTicketPool.com
Play Powerball Free!