Premium Members


Sponsored Links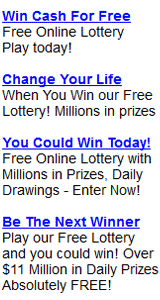 Washington Lottery, WA Lotto Information, Contact, Drawing Schedule, Website

Washington Lottery
Washington (WA) Lottery General Information

Washington's Lottery was created in 1982, the Washington's Lottery was established to generate revenues for state programs through the sale of lottery products (games). Those products, or games, as they are more commonly known, range in variety from Scratch tickets, in which players discover if they are an instant winner, to draw games in which players wait for the random drawing of numbers to determine if they have won. Lottery staff is dedicated to providing new, innovative, and fun games for players to enjoy. Presently, the Washington's Lottery offers five draw games; Mega Millions, Lotto, Quinto, The Daily Game and Daily Keno, with jackpots ranging from $300,000 for Quinto to as high as $360 million for Mega Millions. New Scratch games are launched as frequently as once a month, with players having a choice of more than 30 games a year to experience. Prizes for Scratch games range from $1 to $1,000,000.

The history of the Washington's Lottery is interesting, and provides a fascinating view of a state agency driven by public choice to support state programs such as public education and stadium construction.




Washington Lottery Commission Web Site
http://www.wa.gov/lot/home.htm


Washington Lottery Drawing Schedule

| | | | | | | | |
| --- | --- | --- | --- | --- | --- | --- | --- |
| Games | SUN | MON | TUE | WED | THU | FRI | SAT |
| MEGA Millions | | | | | | | |
| Powerball | | | | | | | |
| Lotto | | | | | | | |
| Hit 5 | | | | | | | |
| Match 4 | | | | | | | |
| Daily Game | | | | | | | |
| Keno | | | | | | | |




Washington Lottery Winning Numbers

Search Past WA Lottery Numbers
Recent Washington MEGA Millions Numbers
Recent Washington Powerball Numbers
Recent Washington Lotto Numbers
Recent Washington Hit 5 Numbers
Recent Washington Match 4 Numbers
Recent Washington Daily Game Numbers
Recent Washington Keno Numbers






Washington Lottery Contact Information

Mailing Address:
Washington's Lottery
PO Box 43000
Olympia, WA 98504-3000

Main Office Address:
814 4th Avenue East
Olympia, WA 98506

Customer Service
Phone: (360) 664-4720
Fax: (360) 664-2630
Email: Director's_Office@walottery.com
TDD Users: (360) 586-0933
Retailer Line: 1-800-732-5101 or (360) 753-1412
ADA Issues: (360) 664-4815
Winning Numbers Line: 1-800-545-7510

LottoStrategies.com - About (WA) Washington Lottery
Washington (WA) state(lotto) lottery official websites: Washingtonlottery.com, WAlottery.com, Washingtonlotto.com, WAlotto.com, Washingtonlottery.org, WAlottery.org, Washingtonlotto.org, WAlotto.org. We also provide these information about Washington lottery: contact, address, phone number. Please refer to Resource Center.
Washington (WA) lottery currently offers these lottery games:

Washington (WA) MEGA Millions
Washington (WA) Lotto
Washington (WA) Hit 5
Washington (WA) Daily Game
Washington (WA) Keno
Washington (WA) Quinto

We also provide these information for the games above: winnning numbers, hot/cold/overdue numbers, jackpot, how to play, how to win, most winning numbers, prizes, winning odds, payout, frequency chart, lotto wheels, etc.
Last Updated at Thu Apr 24 23:09:36 2014
Free Powerball Pool
LotteryTicketPool.com
Play Powerball Free!