Premium Members


Sponsored Links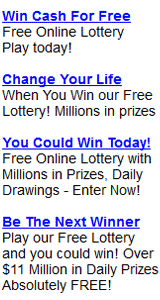 Dist. of Columbia (DC) DC Daily 6 Past 30 Day Winning Numbers
How to Play D.C. DC Daily 6?
Get 2 plays for $1.00

For each play, select 6 numbers from 1 to 39 on the DC Daily 6 bet slip or use the Quick Pick (QP) option.

DC Daily 6 tickets can be purchased in advance for up to 42 consecutive draws.

DC Daily 6 tickets can be purchased up to 7:45 p.m. daily.

Check your tickets carefully. DC Daily 6 tickets cannot be canceled. All sales are final.

The Bonus Ball

Every evening, the D.C. Lottery will draw 6 winning numbers ranging from 1 to 39. A Bonus Ball will then be drawn from the remaining 33 numbers. To win the top prize you must match the first 6 numbers drawn. The Bonus Ball does not apply to the top prize.


LottoStrategies.com - More About Dist. of Columbia (DC) DC Daily 6 Lottery
LottoStrategies.com provides the below information:
Dist. of Columbia DC Daily 6 drawing results (winning numbers), hot/cold Numbers, jackpots
Dist. of Columbia DC Daily 6 Prizes and Winning Odds, wheeling system, payout, frequency chart, how to play, how to win, etc.
Free Powerball Pool
LotteryTicketPool.com
Play Powerball Free!