Premium Members


Sponsored Links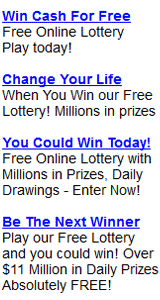 Western Canada (WC) PayDay Past 30 Day Winning Numbers
How to Play Western Canada PayDay?
PAYDAY is available only in the Prairie Provinces and the Territories!

Select four numbers for $2 and receive 14 additional Quick Pick Selections free!

Add EXTRA for a chance to win that game's $250,000 Top Prize or the $100,000 second prize!

Select four numbers from a field of 1 to 77 for the $1,000 A Week for Life prize category. The Ticket Terminal will add 14 additional Quick Pick Selections to your ticket as follows: 2 Selections for the $50,000 prize category; 4 Selections for the $20,000 prize category; and 8 Selections for the $1,000 prize category.


LottoStrategies.com - More About Western Canada (WC) PayDay Lottery
LottoStrategies.com provides the below information:
Western Canada PayDay drawing results (winning numbers), hot/cold Numbers, jackpots
Western Canada PayDay Prizes and Winning Odds, wheeling system, payout, frequency chart, how to play, how to win, etc.
Free Powerball Pool
LotteryTicketPool.com
Play Powerball Free!