Premium Members


Sponsored Links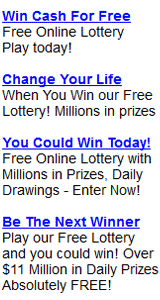 Arizona Lottery, AZ Lotto Winning Numbers Archive, Games, Past Results
Arizona (AZ) Lottery General Information
The Arizona Lottery has been going strong for over 25 years, and continues to improve based on prize payouts as well as financial support for the retailers involved and the state agencies that depend on funding from the proceeds.

In 2006 fiscal year, total sales were a record $469 million.

Where does the money generated by the Arizona Lottery go?

By law, at least 50Successust be paid out in prizes. The Arizona Lottery also supports state programs, such as The Heritage Fund, and the Economic Development Fund. Finally, part of the proceeds of the Arizona Lottery goes to pay the retailers that sell the tickets and for the ongoing operations of the Arizona Lottery. In 2006 Arizona's General Fund received over $141 million.

How old do you have to be to buy an Arizona lottery ticket?

You must be at least 21 years old to participate in the Arizona Lottery.

If I win the Arizona Lottery do I have to pay taxes?

Yes, lottery winnings are taxable, and the Arizona Lottery may report winnings, depending on the amount. Winnings of $5,000 or more are subject to withholding by the Arizona Lottery.

If I have a winning Arizona Lottery Ticket, how long do I have to redeem it?

Scratchers: up to 180 days from the announced game ending date.

The Powerball, The Pick, Fantasy 5, and Pick 3: 180 days

Arizona lottery has 3 online games:
Powerball: drawing twice a week on Wednesday and Saturday.
The Pick: drawing twice a week on Wednesday and Saturday.
Pick 5: drawing daily except Sunday.
Pick 3: drawing daily except Sunday.
LottoStrategies.com - About (AZ) Arizona Lottery
Arizona (AZ) state(lotto) lottery official websites: Arizonalottery.com, AZlottery.com, Arizonalotto.com, AZlotto.com, Arizonalottery.org, AZlottery.org, Arizonalotto.org, AZlotto.org. We also provide these information about Arizona lottery: contact, address, phone number. Please refer to Resource Center.
Arizona (AZ) lottery currently offers these lottery games:

Arizona (AZ) Powerball
Arizona (AZ) The Pick
Arizona (AZ) Pick 5
Arizona (AZ) Pick 3

We also provide these information for the games above: winnning numbers, hot/cold/overdue numbers, jackpot, how to play, how to win, most winning numbers, prizes, winning odds, payout, frequency chart, lotto wheels, etc.
Last Updated at Thu Apr 24 15:26:43 2014
Free Powerball Pool
LotteryTicketPool.com
Play Powerball Free!