Premium Members


Sponsored Links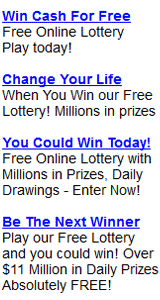 West Virginia Lottery, WV Lotto Winning Numbers Archive, Games, Past Results
West Virginia (WV) Lottery General Information
A common phrase used by the West Virginia Lottery is, "Good Things Happen When You Play."

West Virginia State voters approved the West Virginia Lottery Amendment to the West Virginia Constitution on November 6, 1984 by a vote of 67% for the issue to 33% against. The West Virginia Legislature passed the West Virginia Lottery Act in April 1985, which was signed in May by Gov. Arch A. Moore, Jr. The first instant tickets were sold on January 9, 1986. More than 1.5 million tickets were sold the first day.



LottoStrategies.com - About (WV) West Virginia Lottery
West Virginia (WV) state(lotto) lottery official websites: WestVirginialottery.com, WVlottery.com, WestVirginialotto.com, WVlotto.com, WestVirginialottery.org, WVlottery.org, WestVirginialotto.org, WVlotto.org. We also provide these information about West Virginia lottery: contact, address, phone number. Please refer to Resource Center.
West Virginia (WV) lottery currently offers these lottery games:

West Virginia (WV) Powerball
West Virginia (WV) Hot Lotto
West Virginia (WV) Cash 25
West Virginia (WV) Daily 4
West Virginia (WV) Daily 3

We also provide these information for the games above: winnning numbers, hot/cold/overdue numbers, jackpot, how to play, how to win, most winning numbers, prizes, winning odds, payout, frequency chart, lotto wheels, etc.
Last Updated at Thu Apr 24 12:07:03 2014
Free Powerball Pool
LotteryTicketPool.com
Play Powerball Free!