Premium Members


Sponsored Links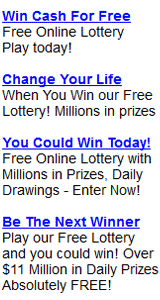 Wisconsin Lottery, WI Lotto Winning Numbers Archive, Games, Past Results
Wisconsin (WI) Lottery General Information
Wisconsin Lottery currently offer players 6 online lotto games. They are Powerball, Megabucks, SuperCash!, Badger 5, Pick 3 and Pick 4. Powerball and Megabucks drawings take place on Wednesdays and Saturdays. SuperCash!, Badger 5, Pick 3 and Pick 4 are drawn every day.

In April, 2003, Michael Edmonds was appointed Acting Administrator of the Lottery Division for the Wisconsin Lottery.

March 21, 2006, The Wisconsin Lottery is reported to have announced that its most recent quarter sales mark the second best in the lottery's history.

LottoStrategies.com - About (WI) Wisconsin Lottery
Wisconsin (WI) state(lotto) lottery official websites: Wisconsinlottery.com, WIlottery.com, Wisconsinlotto.com, WIlotto.com, Wisconsinlottery.org, WIlottery.org, Wisconsinlotto.org, WIlotto.org. We also provide these information about Wisconsin lottery: contact, address, phone number. Please refer to Resource Center.
Wisconsin (WI) lottery currently offers these lottery games:

Powerball is drawn 2 times a week Wednesday and Saturday 9:59 PM

MEGA Millions is drawn two times a week Tuesday and Friday 9:59 PM

Megabucks is drawn twice a week Wednesday and Saturday 10:35 PM

Super Cash is drawn everyday Sunday thru Saturday 9:00 PM

Badger 5 is drawn daily Sunday, Monday, Tuesday,Wednesday, Thursday, Friday and Saturday 10:35 PM

Pick 4 is drawn daily 6:35 PM

Pick 3 is drawn daily Sunday thru Saturday 6:35 PM

5 Card Cash is drawn daily 9:00 PM


We also provide these information for the games above: winnning numbers, hot/cold/overdue numbers, jackpot, how to play, how to win, most winning numbers, prizes, winning odds, payout, frequency chart, lotto wheels, etc.
Last Updated at Tue Jul 29 18:53:25 2014
Free Powerball Pool
LotteryTicketPool.com
Play Powerball Free!