Iowa Lottery, IA Lotto Winning Numbers, Picks, Odds, Frequency
Today's draw dates are in red italic.
Last Updated at Tue Feb 20 08:55:31 2018

Select a state for latest results

Select a state to view the last drawing results. You can enter up to 10 sets of ticket numbers to find out if you have won.



Latest U.K. & Irish Lottery Results

Latest U.S. & Canada Lottery Results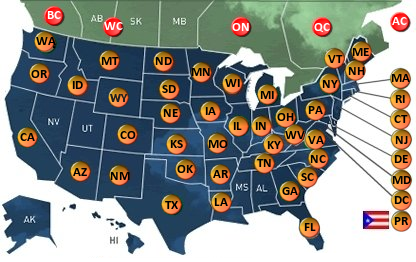 Iowa (IA) Lottery General Information
Iowa joined the Lottery ranks in April 1985 after Governor Terry Branstad signed House file 225 and mandated that a lotto game be in place by May 1, 1986. Everything began with Iowa's first scratch ticket, "Scratch, Match & Win," first sold on August 22, 1985, and the relatively simple "pick 6 of 30" online LOTTO game. Iowans purchased more than 28.1 million instant game tickets by the end of Scratch, Match & Win's run. By the end of the Iowa Lottery's first year, Iowa had seen five different scratch tickets.

Until 1992, the Iowa Lottery only sold $1 tickets. At that time it was what many lotteries did. Since then, customer demand has dictated the Lottery begin selling higher dollar tickets.

In 1992, Iowa offered its first multi-dollar tickets ($2) and the number has risen since then. In fiscal year 2000, 36% of sales were from multi-dollar tickets as compared to 33% in both 1999 and 1998 and 29% in fiscal year 1997.

Retailers can benefit greatly from the multi-dollar tickets because it takes the same effort to sell a $1 ticket as it does a $10 ticket, but their profit is higher with the higher prized ticket.

Bingo was the first $2 ticket offered, but $3 and $5 tickets of all kinds soon followed.



LottoStrategies.com - About (IA) Iowa Lottery
Iowa (IA) state(lotto) lottery official websites: Iowalottery.com, IAlottery.com, Iowalotto.com, IAlotto.com, Iowalottery.org, IAlottery.org, Iowalotto.org, IAlotto.org. We also provide these information about Iowa lottery: contact, address, phone number. Please refer to Resource Center.
Iowa (IA) lottery currently offers these lottery games:

Powerball is drawn -1: AM

MEGA Millions is drawn -1: AM

Lucky For Life is drawn -1: AM

Lotto America is drawn -1: AM

Pick 3 Midday is drawn -1: AM

Pick 4 Midday is drawn -1: AM

Pick 3 Evening is drawn -1: AM

Pick 4 Evening is drawn -1: AM


We also provide these information for the games above: winnning numbers, hot/cold/overdue numbers, jackpot, how to play, how to win, most winning numbers, prizes, winning odds, payout, frequency chart, lotto wheels, etc.