Michigan Lottery, MI Lotto Winning Numbers, Picks, Odds, Frequency
Today's draw dates are in red italic.
Last Updated at Tue Feb 20 08:55:23 2018

Select a state for latest results

Select a state to view the last drawing results. You can enter up to 10 sets of ticket numbers to find out if you have won.



Latest U.K. & Irish Lottery Results

Latest U.S. & Canada Lottery Results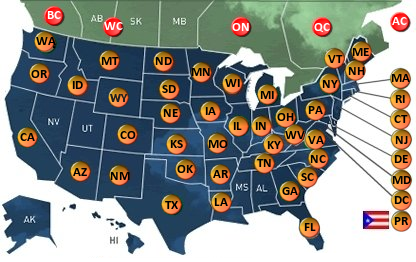 Michigan (MI) Lottery General Information
1972, Amendment to the Michigan Constitution to allow a state-run lottery, 73% yes vote. Enriching the lives of the residents and schools of the Great Lakes State, the Michigan Lottery is a ticket-based, state-run lottery operation. At state-sanctioned retail locations, the public can purchase instant-win scratch tickets or tickets for drawings potentially worth millions.

About 90% 0f the money collected from these sales is given as prizes or to the State School Aid Fund. Since its inception in 1973, the Michigan Lottery has contributed nearly $8 billion to schools and awarded about $10 billion in prizes.

Michigan collaborates with Georgia, Illinois, Maryland, Massachusetts, and Virginia in a six-state lottery called the Big Game, now Mega Millions.


LottoStrategies.com - About (MI) Michigan Lottery
Michigan (MI) state(lotto) lottery official websites: Michiganlottery.com, MIlottery.com, Michiganlotto.com, MIlotto.com, Michiganlottery.org, MIlottery.org, Michiganlotto.org, MIlotto.org. We also provide these information about Michigan lottery: contact, address, phone number. Please refer to Resource Center.
Michigan (MI) lottery currently offers these lottery games:

Powerball is drawn 0: AM

MEGA Millions is drawn 0: AM

Lucky For Life is drawn 0: AM

Classic Lotto 47 is drawn 0: AM

Fantasy 5 is drawn 0: AM

Keno is drawn 0: AM

Daily 4 Midday is drawn 0: AM

Daily 3 Midday is drawn 0: AM

Daily 4 Evening is drawn 0: AM

Daily 3 Evening is drawn 0: AM

Poker Lotto is drawn 0: AM


We also provide these information for the games above: winnning numbers, hot/cold/overdue numbers, jackpot, how to play, how to win, most winning numbers, prizes, winning odds, payout, frequency chart, lotto wheels, etc.