New Jersey, NJ Lotto Winning Numbers, Picks, Odds, Frequency
Today's draw dates are in red italic.
Last Updated at Tue Feb 20 08:55:29 2018

Select a state for latest results

Select a state to view the last drawing results. You can enter up to 10 sets of ticket numbers to find out if you have won.



Latest U.K. & Irish Lottery Results

Latest U.S. & Canada Lottery Results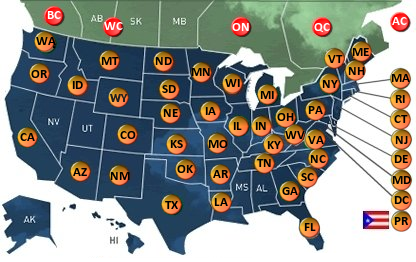 New Jersey (NJ) Lottery General Information
Founded in 1970, New Jersey lottery has paid out nearly $10 billion in prizes. About 40% of the lottery's proceeds are used to support various state programs, including county colleges, school nutrition plans, educational scholarships and grants, veterans' homes, correctional institutions, and care for the disabled.

Approximately half of lottery revenue is paid out in prizes and the rest is spent on administrative costs and commissions for participating merchants.

The New Jersey Lottery has been the leader in innovation. Like all the early games, the earliest Lottery games required no player input other than buying a ticket. Each ticket was preprinted with a potential winning number combination, which was determined at weekly drawings.

New Jersey Lottery has continued to make innovative changes to its games. The Lottery now offers players five online computerized games ~W Pick-3, Pick-4, Jersey Cash 5, Pick-6 Lotto and MEGA MILLIONS. And, all the online games have a feature called Quick Pick in which players can let the computer randomly generate their numbers.

New Jersey Lottery drawings are held at 7:56 PM and are televised live over New Jersey Network Channels 23, 50, 52 and 58. Tickets for all Lottery games can be purchased from 5:00 AM to 12:00 midnight daily during normal business hours at agent locations throughout the state.



LottoStrategies.com - About (NJ) New Jersey Lottery
New Jersey (NJ) state(lotto) lottery official websites: NewJerseylottery.com, NJlottery.com, NewJerseylotto.com, NJlotto.com, NewJerseylottery.org, NJlottery.org, NewJerseylotto.org, NJlotto.org. We also provide these information about New Jersey lottery: contact, address, phone number. Please refer to Resource Center.
New Jersey (NJ) lottery currently offers these lottery games:

Powerball is drawn 0: AM

MEGA Millions is drawn 0: AM

Pick 6 Lotto is drawn 0: AM

Cash 5 is drawn 0: AM

Cash4Life is drawn 0: AM

Pick 4 Midday is drawn 0: AM

Pick 3 Midday is drawn 0: AM

Pick 4 Evening is drawn 0: AM

5 Card Cash is drawn 0: AM


We also provide these information for the games above: winnning numbers, hot/cold/overdue numbers, jackpot, how to play, how to win, most winning numbers, prizes, winning odds, payout, frequency chart, lotto wheels, etc.