Virginia Lottery, VA Lotto Winning Numbers, Picks, Odds, Frequency
Today's draw dates are in red italic.
Last Updated at Sat Sep 23 12:31:05 2017

Select a state for latest results

Select a state to view the last drawing results. You can enter up to 10 sets of ticket numbers to find out if you have won.



Latest U.K. & Irish Lottery Results

Latest U.S. & Canada Lottery Results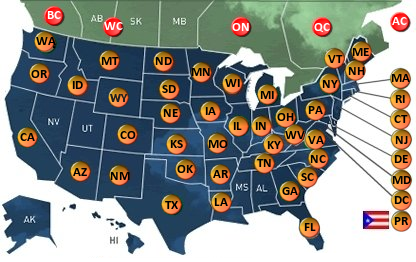 Virginia (VA) Lottery General Information
The Virginia Lottery was created on December 1, 1987, following a 57% to 43% vote in favor of a lottery in November, 1987.

Since the first ticket was sold on Sept 20, 1988, the Virginia Lottery has earned more than $5.3 billion for the Commonwealth of Virginia. By a constitutional amendment passed by Virginia voters in 2000, all Lottery profits are now designated to solely benefit K-12 public schools.

Virginia Lottery players have a wide range of games from which to choose. Instant games are available for $1, $2, $5 and $10, with prizes up to $1 million. On-line games include Pick 3, Pick 4, Cash 5, Win for Life and the extremely popular Mega Millions.

The Virginia Lottery is a billion dollar enterprise and heading it is Sheila Hill-Christian. When Governor Tim Kaine appointed Ms. Hill-Christian to head the Lottery, she became the third executive director in the Lottery's 18 year history and the first African-American to hold that position. Ms. Hill-Christian brings to the job a career filled with service to Virginia.



LottoStrategies.com - About (VA) Virginia Lottery
Virginia (VA) state(lotto) lottery official websites: Virginialottery.com, VAlottery.com, Virginialotto.com, VAlotto.com, Virginialottery.org, VAlottery.org, Virginialotto.org, VAlotto.org. We also provide these information about Virginia lottery: contact, address, phone number. Please refer to Resource Center.
Virginia (VA) lottery currently offers these lottery games:

Powerball is drawn 2 times a week Wednesday and Saturday 10:59 PM

MEGA Millions is drawn two times a week Tuesday and Friday 10:59 PM

Cash4Life is drawn twice a week Monday and Thursday 9:00 PM

Bank a Million is drawn twice a week Wednesday and Saturday 11:00 PM

Cash 5 Day is drawn everyday 2:00 PM

Pick 4 Day is drawn daily Sunday thru Saturday 2:00 PM

Pick 3 Day is drawn daily 2:00 PM

Cash 5 Night is drawn everyday 11:00 PM

Pick 4 Night is drawn everyday 11:00 PM

Pick 3 Night is drawn everyday Sunday thru Saturday 11:00 PM


We also provide these information for the games above: winnning numbers, hot/cold/overdue numbers, jackpot, how to play, how to win, most winning numbers, prizes, winning odds, payout, frequency chart, lotto wheels, etc.