Premium Members


Sponsored Links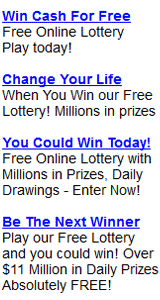 Oregon (OR) Lottery - Search Past Winning Numbers & Results
Oregon (OR) Lottery General Information
The Oregon State Lottery runs the games of chance that generate additional revenues for state coffers. Players can start with as little as 25 cents to buy a break-open ticket or play video lottery at a freestanding terminal.

Other games include number-matching games and Sports Action, where results are based on outcomes of professional football games.

Up to 16% of revenues go to operating the Oregon lottery. Other revenues generated go to prizes and to Oregon's Economic Development Fund, which supports public education, training programs for displaced timber workers, and small-business development.

Measure 4, November 1984: Constitutional Amendment establishing the Oregon Lottery, passed with 66% approval.

Measure 5, November 1984: Statutory provisions to operate Oregon Lottery, passed with 66% approval.

Measure 21, May 1995: Constitutional Amendment dedicating Oregon Lottery funds to public education, passed with 90% approval.

Measure 52, November 1997: Statute authorizing Oregon Lottery bond program to finance public school projects, passed with 75% approval.

Measure 66, November 1998: Constitutional Amendment dedicating 15% of Oregon Lottery funds to state parks, beaches, habitat and watershed protection, passed with 69% approval.



Last Updated at Mon Jul 13 10:27:12 2020