Massachusetts (MA) Lottery - Winning Numbers, Results and Jackpots
Today's draw dates are in red italic.
| | | | |
| --- | --- | --- | --- |
| Game | Jackpot | Change | Draw Date |
| MEGA Millions | 395,000,000 | 18,000,000 | FRI 12/08 |
| Powerball | 468,000,000 | 33,000,000 | SAT 12/09 |
| Megabucks | 1,400,000 | 100,000 | SAT 12/09 |
Last Updated at Thu Dec 7 16:04:58 2023

Select a state for latest results

Select a state to view the last drawing results. You can enter up to 10 sets of ticket numbers to find out if you have won.



Latest U.K. & Irish Lottery Results

Latest U.S. & Canada Lottery Results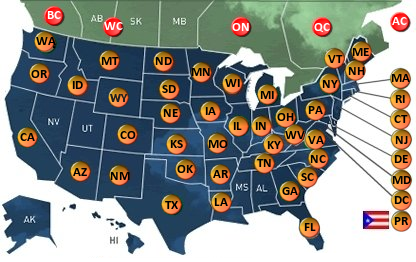 Massachusetts (MA) Lottery General Information
The Massachusetts State Lottery was established by the legislature in 1971, in response to the need for revenues for the 351 cities and towns of the Commonwealth.

The Lottery began with sales of tickets for its original weekly drawing called The Game in March 1972. Then in May 1974, Massachusetts introduced a game that would revolutionize the lottery industry in the United States. The Instant Game was the first scratch ticket, with a top instant prize of $10,000. There were also three monthly drawings in the Instant Game, for $100,000 and $1,000 a year for life.

Today, the Lottery introduces 24-28 new instant games each year and is a national leader in sales.

The Lottery also offers a variety of on-line, or computerized, games including: The Numbers Game, Megabucks, Mass Cash, CASH WinFall, KENO, and the multi-state Mega Millions game.

To provide an operating structure for the Lottery, the Legislature established a five-member commission that includes the State Treasurer as Chairperson, the Secretary of Public Safety, the State Comptroller, and two gubernatorial appointees.

The Commissioners oversee and provide final approval of the types of games, the consumer prices of games, the prize structure of games, the methods of prize payment, and the licensing of agents.

The Lottery Commission meets on a regular basis to discuss all Lottery operations.



LottoStrategies.com - About (MA) Massachusetts Lottery
Massachusetts (MA) state(lotto) lottery official websites: Massachusettslottery.com, MAlottery.com, Massachusettslotto.com, MAlotto.com, Massachusettslottery.org, MAlottery.org, Massachusettslotto.org, MAlotto.org. We also provide these information about Massachusetts lottery: contact, address, phone number. Please refer to Resource Center.
Massachusetts (MA) lottery currently offers these lottery games:

Powerball is drawn 2 times a week Wednesday and Saturday 10:59 PM

MEGA Millions is drawn twice a week Tuesday and Friday 11:00 PM

Lucky For Life is drawn 2 times a week Monday and Thursday 10:38 PM

Megabucks Doubler is drawn 0: AM

ST Doubler is drawn twice a week Wednesday and Saturday 11:20 PM

MassCash is drawn everyday 10:00 PM

Numbers Midday is drawn everyday 12:45 PM

Numbers Evening is drawn everyday Sunday thru Saturday 7:57 PM


We also provide these information for the games above: winnning numbers, hot/cold/overdue numbers, jackpot, how to play, how to win, most winning numbers, prizes, winning odds, payout, frequency chart, lotto wheels, etc.