Washington (WA) Lottery - Winning Numbers, Results and Jackpots
Today's draw dates are in red italic.
| | | | |
| --- | --- | --- | --- |
| Game | Jackpot | Change | Draw Date |
| MEGA Millions | 395,000,000 | 18,000,000 | FRI 12/08 |
| Powerball | 468,000,000 | 33,000,000 | SAT 12/09 |
| Lotto | 2,100,000 | 100,000 | SAT 12/09 |
| Hit 5 | 290,000 | 40,000 | THU 12/07 |
Last Updated at Thu Dec 7 16:15:31 2023

Select a state for latest results

Select a state to view the last drawing results. You can enter up to 10 sets of ticket numbers to find out if you have won.



Latest U.K. & Irish Lottery Results

Latest U.S. & Canada Lottery Results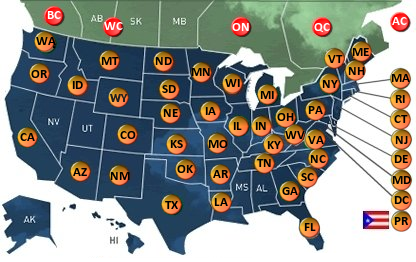 Washington (WA) Lottery General Information
Washington's Lottery was created in 1982, the Washington's Lottery was established to generate revenues for state programs through the sale of lottery products (games). Those products, or games, as they are more commonly known, range in variety from Scratch tickets, in which players discover if they are an instant winner, to draw games in which players wait for the random drawing of numbers to determine if they have won. Lottery staff is dedicated to providing new, innovative, and fun games for players to enjoy. Presently, the Washington's Lottery offers five draw games; Mega Millions, Lotto, Quinto, The Daily Game and Daily Keno, with jackpots ranging from $300,000 for Quinto to as high as $360 million for Mega Millions. New Scratch games are launched as frequently as once a month, with players having a choice of more than 30 games a year to experience. Prizes for Scratch games range from $1 to $1,000,000.

The history of the Washington's Lottery is interesting, and provides a fascinating view of a state agency driven by public choice to support state programs such as public education and stadium construction.



LottoStrategies.com - About (WA) Washington Lottery
Washington (WA) state(lotto) lottery official websites: Washingtonlottery.com, WAlottery.com, Washingtonlotto.com, WAlotto.com, Washingtonlottery.org, WAlottery.org, Washingtonlotto.org, WAlotto.org. We also provide these information about Washington lottery: contact, address, phone number. Please refer to Resource Center.
Washington (WA) lottery currently offers these lottery games:

Powerball is drawn twice a week Wednesday and Saturday 7:59 PM

MEGA Millions is drawn 2 times a week Tuesday and Friday 8:00 PM

Lotto is drawn three times a week 8:00 PM

Hit 5 is drawn daily Sunday thru Saturday 8:00 PM

Match 4 is drawn daily Sunday thru Saturday 8:00 PM

Daily Game is drawn daily 8:00 PM

Keno is drawn daily Sunday thru Saturday 8:00 PM


We also provide these information for the games above: winnning numbers, hot/cold/overdue numbers, jackpot, how to play, how to win, most winning numbers, prizes, winning odds, payout, frequency chart, lotto wheels, etc.